Freedom's Red Triangle Campaign aims to help eradicate Female Genital Mutilation / Cutting (FGM/C) within a generation. Not only as a nation, but as human beings, we must be serious about combating this atrocity which affects 200 million females globally.
The campaign involves wearing a small downward facing red triangle to symbolise solidarity against Female Genital Mutilation. Carrying out Female Genital Mutilation for no medical reason is a deplorable crime which violates girls and women's human rights. It deprives rights to basic health, freedom and their human rights to be women. It must be stopped.
The red triangle campaign, a small symbol that could help eradicate Female Genital Mutilation FGM/C in a generation. Wearing a small downward facing red triangle is a symbol to say you want to end Female Genital Mutilation. We stand together in fighting the inequality against women and girls.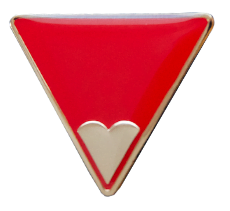 Please support Freedom by purchasing our books or a red triangle badge. All profits go towards helping support our cause.
Purchase A Badge
What your donation can provide
£10
could help us raise awareness in schools and prevent FGM
£30
could provide a counselling session for a victim of abuse
£150
could provide a new identity for a victim fleeing abuse
£500
could provide support for a girl fleeing abuse for a month.